Geisha: The Oriental Sugar Baby?
There are many reasons why millions of tourists from all over the world visit the Land of the Rising Sun every year. In fact, it is a place where tradition and modernity constantly mix, and the border between myth and reality sometimes almost disappears — the geisha being a perfect example of it. For this reason, it appears to visitors to be a place that is often magical and almost bizarre.
The geisha is perhaps one of the figures of the Japanese culture that perhaps most fascinates visitors. In fact, the mystery surrounding these women, the repositories of centuries-old traditions, still represents a world that still seems inaccessible to us as westerners.
What is a geisha?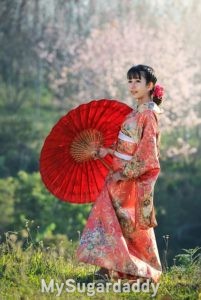 The Japanese term geisha can be translated into English as "artist". In fact, it is a female figure born in Japan at the end of the eighteenth century whose aim is to entertain the audience with dance performances and incredible communication skills.
The geishas are indeed women with strong intelligence, highly educated, with great talent in various art forms and extreme geniuses of communication.
Misinterpretation
The term geisha became known in the West thanks to the Second World War. In fact, it was the American soldiers who, after their arrival in Japan, confused it with the figure of oiran (Japanese prostitutes of the upper village), because since there was no equivalent model in American culture, they could not fully understand the difference between the two. For this reason, in Western literature, as well as in cinema, we often find the image of the geisha associated with the buying and selling of sexual services.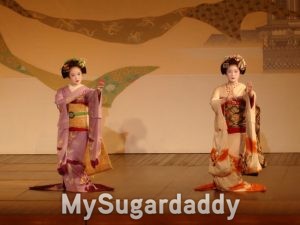 This seems absurd now that we know that the geishas were forbidden from any kind of love relationship with men for a long time, although it couldn't be ruled out that this could happen secretly nevertheless.
However, it was common for a particularly wealthy man to decide to play an important role in geisha's life. He then became her mentor, financed her education and bought her expensive clothes. In this case, such a man was called danna and could enter into a relationship with her, but it did not necessarily have to be of a sexual nature.
The secret of her charm
As we have already seen, the geisha were women with strong artistic and communication skills. They were indeed masters of these arts and possessed a charm that no other woman of that time had. Because access to education was only a male priviledge, it was very difficult to find an ordinary woman with whom one could discuss art and culture with who also was full of beauty and elegance.
The geisha thus compensated for a female figure that society itself was lacking at the time. So the fascination they exuded came from this very difference. They were regarded as muses, almost transcendental beings who caused fascination with their bodies and words. They were also mostly unreachable beings because they had no relationships with customers.
What does a geisha have in common with the modern sugar baby?
The figure of the ancient Geisha and the modern Sugar Baby are two figures that are comparable in some ways.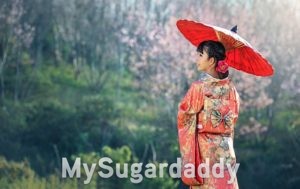 Geisha's traditional relationship with wealthy men is very reminiscent of the relationship between sugar babies and sugar daddies of these days. In fact, it is always a relationship of mutual benefit, which does not necessarily include having sexual relations.
Moreover, both had been misinterpreted because they were compared to a female figure that did not correspond to them in truth.
If you're interested in the history of sugar dating, check out these articles on the first sugar baby and the first sugar daddy in history 😉