Sugar Dates – The Different Types
Different Types Of Sugar Dates
Sugar dating is a world of wonders. Here is a guide of all the different types of sugar dates to take your partner on. From fun to romantic there is something for everyone. Make the effort and the both of you will go home satisfied.


Fun Sugar Dates
Fun sugar dates mean a number of things. Fun dates are good for your emotional health and will make both people go home with a smile on their face. These dates are usually classed as 'childish' outings.
This could mean going to the park for a picnic. Going to the local theme park. It could even mean eating ice cream while walking along the beach barefoot. Go roller skating and visit the arcades. These types of dates are perfect if you want to let your hair down. You can both relax and enjoy the fun atmosphere without worrying about impressing each other too much as you are both too busy having fun!
Romantic Sugar Dates
Romantic sugar dates are for those who want to get loved up. If you want to get some romance in the air then romantic dates are classed as candlelit dinners while watching the sunset.
Try something unique and book an entire restaurant just for the two of you. Hire a band to play for you both. Choose something original but make sure there is wine, candles, seafood and slow music to dance to.
Adventure Sugar Dates
Adventure sugar dates are perfect for those who love the outdoors. If you want an adrenaline rush then there is plenty of activities to choose from which will bring the two of your closer. Tandem sky diving is the most popular. Adventure courses and zip wire obstacles are also fun.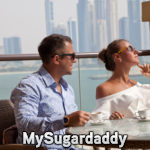 If you want to do something where the two of you can be alone then go hiking or trekking to catch a view from the top of the mountain. Take some champagne with you so you don't lose the 'date' feel. Water activities are also fun. Taking your partner out on a speedboat or even surfing could be the key to your sugar babies heart!
Evening Sugar Dates
Evening sugar dates are perfect for those who want a quiet night out to get to know one another.
Visiting quiet public places will make you feel safe with one another to begin with. Try something simple that you both will like. Maybe a quiet Italian diner outside of town or maybe even a cruise dinner. Evening dates are usually met with a lot of wine, cocktails and something sweet for afters. Depending on what you both like these are ideal if you want a few hours together to just talk and get to know one another. You can then send flowers in the morning to thank your sugar baby for what a lovely time you had the evening before.