Sugar Daddy Advice
Sugar Daddy Advice
The Sugar Daddy Advice Guide

This Sugar Daddy Advice guide is intended to advise prospective and seasoned Sugar Daddies on the dos and don'ts of Sugar Daddy dating. There are several rules that aspiring Sugar Daddies need to follow:
Do not assume that your Sugar Babe cannot live without you
Never disrespect your Sugar baby
Never tell your Sugar Baby that she is lucky to have you, even if she is
Never show off – it's not cool
Find your mature swag and shake it
Don't try to look young – she knows you are old and doesn't care
Smile and have fun
The above rules apply to prospective and experienced Sugar Daddies. Just because you have been a Sugar Daddy for a long time it does not mean you have got the whole thing sussed. You still need Sugar Daddy advice to keep your game fresh and make sure you don't become complacent.
Sugar Daddy Advice for Newbies
The best Sugar Daddy advice for newbie Sugar Daddies must include a recommendation for them to be attentive and listen to their Sugar Babe. Just because you hold the purse strings it does not mean she does not have options. Keep her content in every way you can and she will not try to play you with another or leave you. Remember, just because you give her money it doesn't make her a hooker because if she wanted to be a prostitute she would simply charge you for every intimate episode. That is not the same as being a Sugar Babe. Most Sugar Babes do not want to be prostitutes which is why they prefer to have one man who is extremely generous; you, we are hoping! So take heed of our Sugar Daddy advice as you search for your sweetheart.
Sugar Daddy Advice for Sugar babes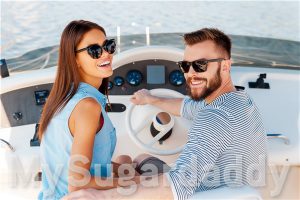 Even Sugar Babies need Sugar Daddy advice. Even Sugar Babies can forget their responsibilities and forget that the best Sugar Daddies are not 'Johns' desperate for sex. If they were hooker customers they could find sexual gratification much easier and for much much cheaper than keeping you, their Sugar Baby. They want something meaningful because they don't want a prostitute. So please don't act like one. Be a lady unless you've already agreed on the occasional 'Freak in the bed' scenario. That is a different matter and often very healthy within relationships. Try to keep your Sugar Daddy wanting you by sometimes declining spur-of-the-moment requests for company. Let him know that you do have a life away from him, even if you don't. But don't be too rude about it or you'll risk activating a whole different scenario called the 'Ex' phenomenon. Game over!