Sugar Daddy Junior Pop
Sugar Daddy Junior Pop Family
The Sugar Daddy Junior Pop candy was created by Robert Welsh in 1925 as part of a collection of candies called the Pop family. It was sold by the James O. Welsh Company. Originally called the Papa Sucker, the name was changed to Sugar Daddy Junior Pop in 1932. There were two other members of the pop family. One was called the Sugar Mama, which was invented in 1965 and was covered in chocolate. There was a chocolate version of the Sugar Daddy Junior Pop before the Sugar Mama was invented. It had a brown and yellow wrapper. The Sugar Mamas were discontinued in the eighties. The other member is a bite-sized version called Sugar Babies, which was introduced in 1932. They had a tagline that read: "A Handful of Fun".
Sugar Daddy Junior Pop Appearance
The Sugar Daddy Junior Pop is described as a "Delicious Milk Caramel Pop". It's essentially a hard caramel sucker. It also had a tag line that read: "The flavour lasts a lifetime". The regular size is called Sugar Daddy while the small version is the Sugar Daddy Junior Pop. The non-stick wax wrapping is yellow with red letters for Sugar Daddy and blue or red for the descriptions. At one point, it was possible to received animal collector cards in the Sugar Daddy suckers that had pictures on the front and nature facts on the back. They were primarily marketed to children, as expected with candy, but also had commercials with adults in them.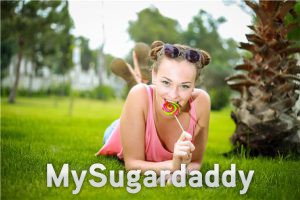 Sugar Daddy Junior Pop Today
It is still possible to buy Sugar Daddy candies today as they are with Tootsie Roll Industries. The James O. Welsh Company was purchased in 1963 by Mondelez International, which was called Nabisco at the time. The Welsh brands, including the Sugar Daddy, were then sold to Warner-Lambert before being acquired by Tootsie Roll Industries in 1993. They can be purchased online, either individually or in bulk, and in some physical stores. Both the regular sizes and the Sugar Daddy Junior Pop sizes are available. There is even a giant version that weighs 1 pound made especially for the Battle of the Sexes tennis match between Billie Jean King and Bobby Riggs in 1973. The giant size was used to promote the match and can be purchased today when the seasonal sizes are available for Valentines and Christmas. This can also be purchased online. There are also novelty and collectors items inspired by the Sugar Daddy Junior Pop, including wallets, shot glasses, earphones and even Sugar Daddy Junior Pop flavored lip balm. The Sugar Daddy Junior Pop and it's family are considered America's oldest and most popular milk caramel suckers.