looking for a sugar babe
I'm looking for a sugar babe
"I'm looking for a sugar babe" said my friend Bob down the pub last night. Bob (not his real name, I'm not an idiot) is a CEO of a fairly major company. I've never pried too much but since he lives in the manor house at the end of the village and drives a brand new Bentley I am pretty sure that he is quite well off.
"What like Siobhán Donaghy?" He looked at me like I was speaking in tongues. He may be rich but clearly he doesn't follow pop culture in the same way I do. "The Sugababes you know…" I burst into a verse of 'Round Round' and promptly regretted it.
"No! I'm looking for a sugar babe, a young lady to shower with gifts and take out to dinner."
I'm not embarrassed to admit that I considered offering to shave my beard off and pop on a dress for him. I'm not looking for a sugar babe myself and in fact my finances are tight enough I'd consider looking for a sugar daddy despite being a straight middle aged bloke.
Why are you looking for a sugar babe?
"And what are you looking for a sugar babe for?" I asked trying to keep a conspiratorial wink out of my voice. "Other than to shower with gifts, that is."
"I'm looking for a sugar babe for exactly the reason you think. I mean look around here." He indicated to the bar area of the Dog and Duck. It was a busy night but we had the Grumpy Old Men corner to ourselves. "Haggard old women and vacuous empty-headed little girls; or worse toothless benefits slags."
Now I can't say I shared his view of things. Normally we were on the same wavelength but I'd been nursing the same pint for an hour now whilst he was well into his second bottle of Scotch. I knew better to argue though.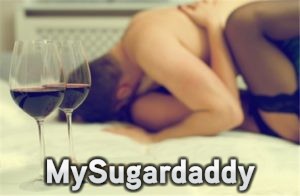 I nodded.
"I want to have sex with a hot young body who can stimulate my mind and my body."
How are you looking for a sugar babe?
"Why not just get an escort then?" I've not used a prostitute but I see no shame in it so, why not?
"I have but you have to put them back and you don't have them in the same way. I'm looking for a sugar babe to share my life with and so I can share their life. I want love but I want it on my terms."
I shrugged and nursed the dregs of my pint. I hoped he'd take the hint as I slurped the bottom of it wringing out every drop. "Where are you looking for a sugar babe then?"
"There are websites like my-sugar-daddy.com"
I gave up and just waggled my empty pint glass at him. "Any chance you'll my-sugar-daddy.com?"